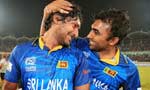 Former Sri Lankan star cricketers Mahela Jayawardene and Kumar Sangakkara were auctioned for 550,000 USDs at an auction held today for the inaugural edition of the Masters Champions League (MCL) which would be held in Dubai in January next year.
Legendary cricketers like Brian Lara, Sourav Ganguly, Jacques Kallis and others have also been assigned to six teams.
According to International Business Times, Muttiah Muralitharan had been auctioned for 100,000 USDs and is the ICON of the team, Gemini Arabians.
The T20 tournament for the retired cricketers, which is likely to run from 28 January through 15 February, will see as many as six teams battling it out in the league in UAE. And a total of 90 retired cricketers will be looking to turning back the clock once more in the 22 yard-field.
The six franchisees had a total purchasing capacity of $750,000 to spend in the auctions, and they had already spent a combined $100,000 on two 'Legend' players. According to the rules of the auction, there are four categories of players -- Legends, Icons, A+, A and Associate country players.
The base price of the 'Icons' remained at $100,000, while the players who picked up 100 International caps or more (Category A+) started at a price of $30,000.