---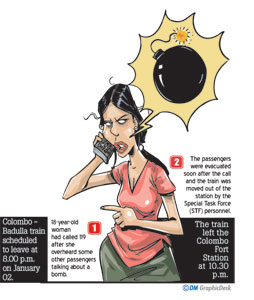 The Police today arrested the 18-year-old woman who was alleged to have phoned the emergency No: 119 falsely claiming that there was a bomb on the Colombo-Badulla train scheduled to leave at 8.00 p.m. on Monday.
A statement was also recorded from the suspect, a resident of Kirindiwela.
She told the Police that she had called 119 after she overheard some other passengers talking about a bomb.
The passengers were evacuated soon after the call and the train was moved out of the station by the Special Task Force personnel.
Police couldn't find anything suspicious and the train left the Colombo Fort Station at 10.30 p.m.