---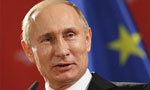 While hailing the 'transformation' taking place in Sri Lanka, Russian President Vladimir Putin has assured President Maithripala Sirisena that Russia was always willing to support Sri Lanka.
The two leaders met last evening during the BRICS-BIMSTEC Outreach Summit in Goa, India.
President Sirisena, who was warmly welcomed by President Putin,expressed his gratitude to Russia for its unconditional support given to Sri Lanka at the UNHRC Summit.
He stressed the importance of strengthening ties between the two countries.