---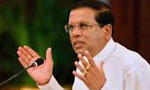 Monday's meeting chaired by President Maitripala Sirisena on the revision of the Value Added Tax (VAT) is reported to have ended inconclusively in the absence of any decision being taken.
The President summoned this meeting amid mounting public protests against the recent increase in the Value Added Tax applicable to various goods and services.
Finance Minister Ravi Karunanayake said there were several proposals and counter proposals and it was decided to move forward.
He said he would see how these could be incorporated in any tax revision. (Kelum Bandara)