---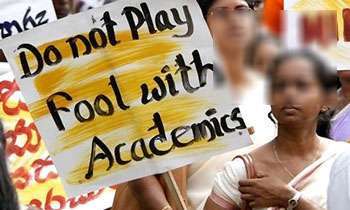 The University non-academics will resume duties today after a work stoppage of 44 days crippling the entire university system.
The University Grants Commission issued the circular granting the union demand of ten percent salary increment last Tuesday, after that, they called off their strike.
Following a discussion held with Higher Education Minister Kabir Hashim early this month, the University non-academic staff was ready to report to duty from April 4, however, was postponed as the authorities delayed the issuance of the circular.
Earlier, on Wednesday (11) the Higher Education Ministry issued a warning that the temporary non-academic workers of Universities who fail to report to duty on or before April 17 would be considered as vacated from their service.
It stated that staff on permanent cadre, who continued to strike would not be paid their salaries, for the days they were on strike and not reported for duty.
Meanwhile, University Trade Union Joint Committee (UTUJC) Chairman Edward Malwattage said a committee to be appointed by the authorities as instructed by the Higher Education Minister to look into the staff's other demands such as language proficiency allowance, concessionary loans, medical insurance and a pension scheme. (Thilanka Kanakarathna)