---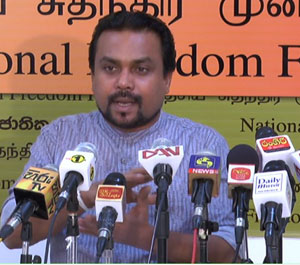 Jathika Nidahas Peramuna (JNP) MP Wimal Weerawansa today charged that the government was imprisoning its opponents at a rate as it intended to hold a referendum to adopt its new Constitution which was aimed at dividing the country.
"The government is planning to implement a new constitution by obtaining a two thirds majority at a referendum and is doing the utmost to prevent a free and fair referendum. Any shortfall for the special majority at the referendum would be met by the pro-government Sri Lankan expatriates, Tamil Diaspora and Sri Lankan Tamils in refugee camps in India as they would be allowed to visit Sri Lanka under special arrangements," he told a news conference.
"The public would be debarred from knowing the right to information and the media would be suppressed until the proposed constitutional reforms are passed. Any individual who protests against it would end up in jail and this diabolical plan is already in progress," Mr. Weerawansa alleged.
"Now we can imagine why the Local Government elections were postponed," he said.
"Due to failures in meeting people's aspirations the government cannot go to villages and seek votes from the people and that is why the government is trying to postponed the Local Government election," he claimed. (Chaturanga Pradeep)