---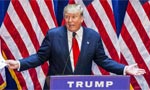 A 20-year-old British man who tried to grab a policeman's gun at a Donald Trump rally in Nevada has told police he had driven there from California to kill the presumptive Republican nominee, court documents allege.
Michael Sandford was arrested on Saturday at the Treasure Island Casino in Las Vegas, where the property mogul was holding a campaign event, the Associated Press reported.
He has now appeared in court in Nevada, where he was charged with an act of violence on restricted grounds and remanded in custody without bail.
According to documents presented to the court, Mr Sandford approached a police officer claiming that he wanted an autograph from Mr Trump, before grabbing the handle of the officer's gun and trying to remove it from the holster.
Mr Sandford reportedly told officers that he intended to kill Mr Trump. He is said to have told law enforcement officials that he had been planning the assassination for up to a year and did not expect to survive the attempt. Mr Sandford had a UK driver's licence and had practised shooting a pistol at a Vegas gun range the day before the incident.
Public defender Heather Fraley said Sandford appeared to be competent and hadn't been diagnosed with a mental illness, but that he has autism and previously attempted suicide. He was living out of his car, did not have a job and was in the country illegally after overstaying a visa.
His mother told court researchers that he was treated for obsessive compulsive disorder and anorexia when he was younger, and that he once escaped a hospital in England, according to Ms Fraley.
Attendees at the rally had to pass through a metal detector before gaining entry. During his speech, Mr Trump said the security screening process had prevented some audience members getting into the venue in time to hear him speak. The billionaire reality TV star blamed the delay on the US Transportation Security Administration, though in fact the security at the Vegas event was being handled by police, the secret service and the casino itself.
"I'm not happy about it, but I have to put up with it," Mr Trump said, complaining about the delays. "They didn't bring enough machines."
Federal Magistrate Judge George Foley said at a hearing on Monday that Mr Sandford, who has not entered a plea, was a potential danger to the community and a flight risk.