---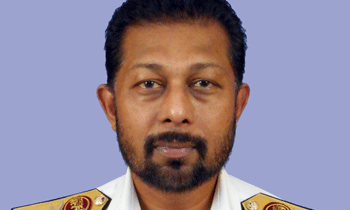 Eastern Naval Commander Rear Admiral Travis Sinniah is tipped to be appointed Navy Commander next week, Daily Mirror learns.
Navy Commander Vice Admiral Ravindra Wijegunaratne who is set to retire next Tuesday (22) would be appointed the Chief of Defence Staff (CDS).
Rear Admiral Sinniah, who joined the Navy in 1982, also holds the post of Flag Officer Commanding Naval Fleet. He was the senior most naval officer to be in active combat operations at sea during the conflict with the LTTE separatists.
Meanwhile, Vice Admiral Wijegunaratne, who was appointed Navy Commander in July 2015 had his term extended by six month on February 22 this year by the President.
Vice Admiral Wijegunaratna will replace the incumbent Chief of Defence Staff General Crisanthe De Silva, who is also set to retire on Tuesday.
General De Silva is to be offered a diplomatic post soon. (Darshana Sanjeewa)