---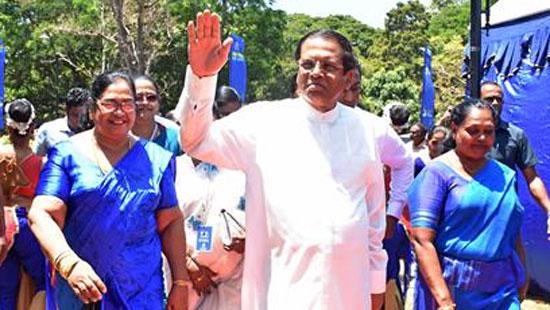 The need of the hour is a new government capable of bringing the country out of the current political, constitutional, social and economical mess, President Maithripala Sirisena said yesterday.
He said the head of the new government must be a political leader who could identify the aspirations and needs of the downtrodden.
Addressing a ceremony the organized by the SLFP Women's Wing to mark World Women's Day on the theme 'A Country Free of Drugs and Alcohol – A happy Nest' at the Viharamahadevi Park in Colombo, the President said when forming a new government the voters must be concerned only on the policies and programme presented to them and not about the politicians or the political party.
"It is time for all right minded and like minded people, politicians and political parties to unite to form a new government soon," he said. "Why a Global Women's Day and not a Men's Day? That must be because men are not discriminated, harassed or their rights are violated. Women have been subjected to various forms of discrimination, violence and indignities from ancient times. It is common to Sri Lanka as well as to foreign countries. But women in Sri Lanka have not suffered as those in other countries because in Sri Lanka, the woman has been treated with high esteem, while the woman is treated badly in the so called affluent countries that boast of democracy and women's rights."
The President said 1.7 million expatriate Sri Lankans employed in the Middle East are women of which 1.5 million are domestic helpers working under trying conditions for a few hundred US dollars.
"The affluent people and politicians import luxury items using the foreign remittances sent by these domestic female workers. But sadly, who has helped them. Job agencies exploit them in a ruthless manner. If Women's day is to be meaningful the so called women's NGOs, women organizations and rights campaigners must address these tragic problems facing Sri Lankan women. I am totally against sending our women as housemaids to the Middle East. But I cannot stop it under the prevailing situation," the President said.
He said another group of women who are not given their full rights are tea estate workers. "Women in the fisheries, industrial and agricultural sectors also need proper treatment as many of their rights are violated daily," the President said.
He said the country that treats expatriate women workers well, was the Philippines. A large majority of expatriate employees working overseas were Philippine nurses and they have been given all possible facilities and assistance by their motherland. They board the plane for departure or on arrival on a red carpet in the airport. They have special in and out gates at the airport.
"Today, thousands of women in the North protest and cry demanding to know the whereabouts of their relatives. 100,000 are missing as a result of the 26-year conflict, the President said. (Sandun A. Jayasekera)