---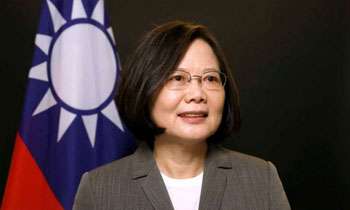 Taiwanese President Tsai Ing-wen announced her resignation Saturday as head of the Democratic Progressive Party after the party suffered a "crushing defeat" in local government elections, according to state media.
The Central News Agency reported Tsai apologized to supporters for the ruling party's "disappointing performance" in a speech at its headquarters, and she took full responsibility for the party's losses.
Although she resigned as the party head, Tsai -- the first woman to be elected President of Taiwan -- will serve out the remainder of her term. The next presidential election is scheduled for January 2020.
According to CNA, Tsai said while her administration is moving in the right direction, the election results were proof that the Taiwanese people are setting a higher standard for their government.
The pro-independence Democratic Progressive Party is expected to undergo a "major reshuffle" soon, Tsai said, to prepare for the challenges ahead, CNA reported.
Premier Lai Ching-te echoed Tsai in a Facebook post, saying the election results indicated the public's dissatisfaction with the government's performance.
Lai had offered to resign earlier Saturday and take ownership of the party's defeat, but Tsai asked him to stay on as premier to ensure the continuity of the government's policies and initiatives.
Tsai was elected President in a landslide victory in January 2016 after a political career mostly as an outsider. She joined the Democratic Progressive Party in 2004 and was its chairwoman by 2008. She lost her first bid for the presidency in 2012 and resigned as the party head before taking the mantle back up in 2014.(CNN)