---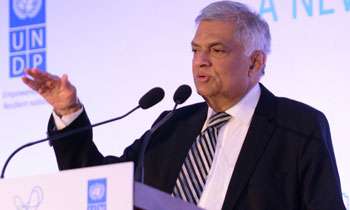 Prime Minister Ranil Wickremesinghe who stressed Sri Lanka should re-look at its divisional structure said the government is looking at changing the structure and have a common unit to implement all programmes of the government.
The Prime Minister said this at the launch of Citra, Sri Lanka's first social innovation lab which is being done by the UNDP and the government of Sri Lanka in Colombo today.
"Our divisional level should work. President Premadasa wanted the division more independent but today it is overloaded. When you think of 2020 or 2030 is division enough? Or do we have to think of a new unit. We are wondering whether the Division can spend all the money that is being put by all levels of the government. There are many competing programmes. We are now trying to identify a common unit to implement all these. Sometimes my Ministry, Road Development Ministry or the provincial councils may be giving money to build roads. Sometimes all for levels of the government may build roads. Should we be doing this ? We will have to look into in to our divisional structure," the Prime Minister said.
"Long ago the basic unit of administration was the province and a GA. In the 60s it was the district. However, subsequently early 80s it was a division. There are so much of work we do in a division. With the Biyagama secretariat we transformed a backword electorates in the Gamapaha District into one of the most industrialized one. More and more work are coming in today. Divisional secretariat is in tug war with the Central government and the provincial council. However, those are today's problems. I am looking at tomorrow's problems. Is this model outdated? Have we got to rethink of divisional structure," the Prime Minister added.
He also said that Sri Lankans now should work and build an environment which for those who are going to live for another 40 to 50 years could enjoy.
"I was looking at the central government administration at the basic level. That is the division. How can we function?. Sometimes I feel divisions are overloaded. We are already in over staff capacity. Considering the monies that we are to spend for programmes like Gamperaliya and Grama Shakthi which are basic ground level programmes there is a big issue of capacity. Can you handle it? This is one issue. Are at a level where citizens can interact? When citizens interact with us are we bureaucratic? Is there enough space for citizen's participation at the grass root level? He questioned.(Yohan Perera)
Video by Amantha