---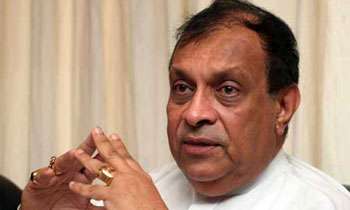 Speaker Karu Jayasuriya yesterday advised both Housing Minister Sajith Premadasa and his former counterpart Wimal Weerawansa not to waste valuable Parliament time.
The Speaker came out with the advice as both Premadasa and Weerawansa were engaged in a showdown in the House by making allegations against each other.
Mr Weerawansa accused Minister Premadasa of recruiting a large number of youth from Hambantota District to the Housing Authority on a daily basis, claiming it added a burden to the authority.
Mr. Premadasa said people have been recruited as manpower was needed to carry out the work of the housing authority and the housing ministry. Also, he accused Mr. Weerawansa of giving government houses to his relatives. Mr. Weerawansa has seen raising points of order several times while Mr. Premadasa demanded time to reply. "Both of you are disturbing the House without allowing us to go through with important business. Please refrain from wasting time," the Speaker told Mr. Premadasa and Mr. Weerawansa. (Yohan Perera and Ajith Siriwardana)