---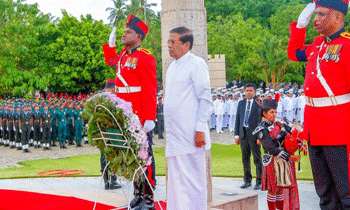 President Maithripala Sirisena said that it is a shame that certain politicians and NGOs have failed to identify the difference between the soldier and the terrorist.
"It is shame that some government and opposition politicians and NGOs which are after money fails to identify the difference between the soldier and the terrorist," the President said addressing the" National War heroes day " held near the war heroes monument in parliament grounds today (19).
He invited everybody who respects the great local cultural inheritance and wants to work on behalf the country, the people and the war heroes to work together with him.
President Sirisena said that today such accusations are made by the parties who support the LTTE and living abroad and those who are against the government and security forces.
He also said Sri Lanka's security forces have not been accused of war crimes in the resolution of the United Nations Human Rights Council as certain media and extremist parties falsely depict.
The brave soldiers who sacrificed their lives will always be hailed by the nation and that the government will always work to give them the highest respect and gratitude they owe and also to look after the well-being of their families, said the President.
President Sirisena said that it is sad to see that certain government media channels have failed to portray the importance of soldiers as well as non-state media do not talk about the programs conducted by the government for the benefit of the soldiers. President asked to work towards reminding the public the great services done by the soldiers to the motherland and to give them the highest dignity they deserve.
President Sirisena admitted that the soldiers should not at all be a political victim and they should not be used to gain political power, to change governments which are in power, or to organize political parties.
President Sirisena further stated that terrorism is now being beaten in the war front, but yet in is not ideologically defeated and that he would not let dreams of the extremists who dream of making a separate Eelam state to become a reality.
President further stated that it is with the collaboration of friendly states that the government made dedicated efforts to defeat this idea of breaking the country in to pieces and that this will be conducted with the help of everyone in the future.
The Annual National War Heroes Commemoration day to celebrate the brave soldiers who fought for a free country was held gloriously.
President Sirisena who offered flowers to the War Heroes Monument honoured the soldiers who sacrificed their lives for the country.