---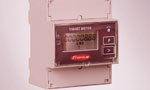 Smart metering system will be introduced from next year with the purpose of relieving electricity grids and reducing distribution grid expansion, Ministry of Power and Renewable Energy said yesterday.
Smart meters equipped with high technology to be manufactured by the ANTE LECO Metering Company with funds from the Asian Development Bank (ADB).
The Ministry expects the demand management of electricity, Deputy Minister of Power and Renewable Energy Ajith P. Perera said.
Addressing a press conference, the Deputy Minister said the smart metering system would cover the Western Province in the next two years and the whole country within next five years.
"The service of the meter readers would be unnecessary as a result of smart meters which can be operated by the consumers, therefore those who are working as meter readers would be given alternative jobs in the ministry," he said.
A smart meter is usually an electronic device that records consumption of electric energy according to the manual operating system which would be fixed by the ministry, so that the charges would be different during peak hour and off peak hours.
The Ministry expects the demand for electricity would be managed by the consumers considering the differentiation of charges. (Piyumi Fonseka)