---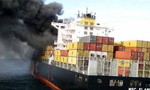 Several containers onboard a ship birthed in the Colombo Port has caught fire, the Fire Brigade said.
Fire brigade vehicles were rushed to the scene while the fire brigade stationed at the Port had also begun the task of putting out the fire.
Meanwhile, South Asia Gateway Terminals (SAGT) said in a statement that the fire was reported in a container onboard a vessel berthed at SAGT.
Full statement
A container on board a vessel berthed at SAGT was detected to be on fire this morning.
SAGT's emergency contingency plan was immediately activated with concurrent involvement of SLPA/ Harbour master and port & metropolitan fire brigades.
Appropriate evacuation of terminal personnel and action to isolate the fire was initiated.
The fire has yet to be extinguished but is being contained to the immediate vicinity of its origins.
The container one of two in the same hold is class: 9 said to contain a shipment of lithium batteries.
The fire/hazardous contingency operation continue under the direction of the Harbour Master.
No injuries have been sustained.