---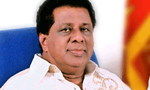 Former Deputy Minister of Fisheries, Sarath Kumara Gunaratne was arrested by the Criminal Investigation Division (CID) a short while ago for the alleged misappropriation of Rs. 12 million.
Gunaratne was arrested on charges of misusing funds allocated for the development of the Negombo Lagoon during the previous regime.
Previously, Colombo Additional Magistrate Chandana Kulasuriya issued warrants against Guanaratne and five others in connection with the fraud.
However, the former deputy minister and four of the suspects did not reported to the CID on the appointed date. A supply manager at the Ceylon Fishery Harbours Corporation, one of the suspects, who came forward to record a statement was arrested by the CID.
Police said the remaining suspects had surrendered to court last month and had been granted bail along with the supply manager. However, the former minister had not responded to the warrants on either occasion.
The former deputy minister was also arrested in connection with an accident in which an individual was killed in 2002.(Darshana Sanjeewa)