---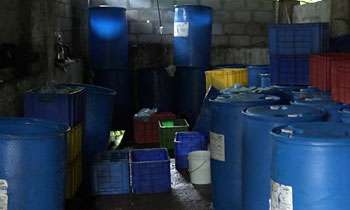 A large stock of chemicals was seized, while being taken to be mixed with tea at a secret location near a tea factory at Rangala, and a suspect arrested by STF personnel from the Ambakotte Camp in Digana.
Police said the suspect was one of the tea factory managers in charge of the chemical mixing plant and that the chemical was identified as C-Sweet Liquid Glucose 01155 and that not permitted to be mixed with tea leaves.
The STF seized the chemicals while in transit and on being interrogated, the driver provided information leading to raid on the secret location in the estate where the chemical was mixed to tea. Officials said a group of employees were mixing the chemical to a stock of tea when they carried out the raid. A senior STF official said the owner of the factory was a leading businessman of the area receiving political patronage and that he had been operating the racket for a long time.
The manager and samples of the chemical were handed over to the Rangala police for further investigations.
Ambakotte STF camp Commander Inspector M.M.G.Herath, SI Sampath, Sergeant Tilakaratne, and PCs Sumudu, Nalaka, Pushpakumara, Waduge and Premaratne carried out the raid on the instructions of Kandy Zone STF Commander ASP Asitha Ranasuriya. (J.A.L. Jayasinghe)