---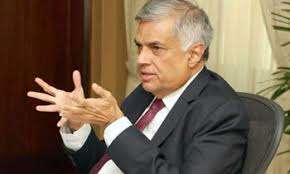 Sri Lankan Parliament should strengthen its ties with 'Storting' which is the Supreme Legislature of Norway, Prime Minister Ranil Wickremesinghe said.
The Prime Minister has expressed these sentiments when a Sri Lankan government delegation led by him met with the Chairperson of Storting Tone Troen on Saturday.
Ms. Troen had lauded Sri Lanka for bringing in laws to ensure more woman representation in politics. She also inquired about the progress it has made in regards to political reforms. Mr. Wickremesinghe had taken the opportunity to brief her about the reforms brought about after the election of President Maithripala Sirisena.
Minister Gamini Wijith Wijayamuni Soyza, MPs Kavinda Jayawardane and Hesha Withanage, Secretary to Prime Minister Saman Ekanayake and Additional Secretary Saman Attaudahetti participated in the tour to the Norwegian Legislative body.
Mr. Wickremesinghe and his delegation had taken flight to the UK thereafter.