---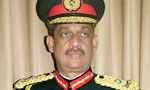 Democratic Party (DP) Leader Field Marshal Sarath Fonseka is yet to make a final decision on joining the UNP for the coming Local Government Elections, General Secretary of the party Gaya Basnayake said today.

UNP General Secretary Kabeer Hashim invited Fonseka and his party members to work with the UNP for the LG elections that are to be held this year.

Speaking to the Daily Mirror, Mr. Basnayake said the Central Committee meeting will be held on February 2, to discuss the decision. "We have not yet made a final decision with regard to the invitation," he said.

Commenting on media reports which stated Fonseka was due to take oaths on the February 9 to fill in the parliamentary seat which fell vacant following the death of Lands Minister M.K.A.D.S. Gunawardena, Mr. Basnayake said they had neither received an invitation nor has Mr. Fonseka made a decision regarding the ministerial post. (Piyumi Fonseka)