---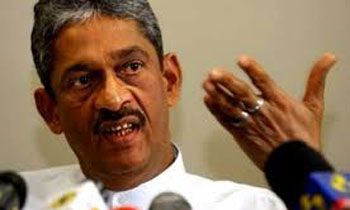 Rural Development Minister Field Marshal Sarath Fonseka yesterday rejected reports that he was not included in the UN Delegation headed by President Maithripala Sirisena to New York. The Field Marshal said he couldn't go to the US because his visa was denied.
"I could' t go to the US because my visa was rejected. This was the third time that my US visa got rejected this year. I was not granted Visa to attend my daughter's graduation as well. My green card was also not renewed," he told the Daily Mirror.
Commenting on the remarks of MP Udaya Gammanpila, that Minister Fonseka had been removed from the delegation, the minister said the President had removed the joint opposition and not him.
"I was someone who spearheaded to bring the President to power. The President didn't drop me from the delegation. It is the joint opposition which had been cast aside by the President. Gammanpila doesn't know what he is talking about. Maybe the UN is something Gammanpila values, but not me. I simply said my visa was rejected because a journalist asked me," he said.
Meanwhile, he said the Foreign Affairs Minister was also included in the UN delegation but the Foreign Minister asked permission from the President to stay back as the UN visit was almost over when Parliament sessions were completed.
The Minister also publicized the letter sent by the Presidential Secretary on September 13 to him saying that he had been included in the official delegation to the UN. The letter said that the Protocol Division of the Foreign Affairs Ministry would be in touch with the minister shortly.
The Ministry of Foreign Affairs (MFA) yesterday said Foreign Minister Tilak Marapana was included in the UN delegation to New York though he was asked to stay back.