---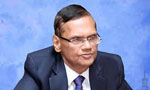 The Government should return the additional monies collected from the people following the VAT increase came into effect on May 2, the Joint Opposition today said.
"The Government should come up with a mechanism to return the money since the Supreme Court has ruled that it was illegal to charge the increment without Parliament approval," Joint Oppositions G.L. Peiris said.
Addressing the weekly news conference of the Joint Opposition's Economic Research Centre, he charged that the Government had pick-pocketed the people by increasing the tax.
He said the Supreme Court order was issued preventing the Government from collecting the tax increment, based on a petition filed by MP Wimal Weerawansa in order to lessen the tax burden on people.
"The Government is taking measures to re-impose hardships on the people. These are the results of the economic policies of the United National Party (UNP). It's not the principle of the Sri Lanka Freedom Party (SLFP) to make life of the common man miserable. Therefore, if the SLFP Ministers raise their hands in favour of tax revision, they will be tightening the grip around the common man's neck," he said. (Lahiru Pothmulla)
Video by Sanjeewa