---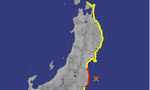 Residents of coastal areas in northeastern Japan are evacuating to higher ground following a powerful earthquake that hit Fukushima Prefecture on Tuesday morning.
The Japan Meteorological Agency says the magnitude 7.4 earthquake struck off the coast of Fukushima Prefecture around 6 AM. It occurred at a depth of 25 kilometers.
The agency issued warnings for tsunami waves of up to 3 meters for Fukushima Prefecture and neighboring Miyagi Prefecture. Tsunami advisories have been issued for other prefectures along the Pacific Ocean.
A tsunami measuring 1.4 meters was observed at Sendai Port in Miyagi.
Municipal authorities in prefectures in the region issued evacuation orders or advisories to residents.
There have been a couple of reports of minor injuries.
The Tokyo Electric Power Company says it has restored a cooling system at the Fukushima Daini nuclear power plant that briefly stopped after the quake.
Firefighting officials in the city of Iwaki in Fukushima said a fire broke out at a petrochemical complex in the district of Nishikimachi, but was extinguished at around 6:40 AM.
The central government set up a task force at the Prime Minister's office to gather information about the quake.
The Tohoku Shinkansen bullet train services were suspended but later resumed. Operations of some other Shinkansen lines are still suspended or delayed. (Source: nhk.or.jp)