---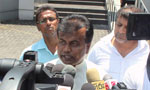 JVP Provincial Councillor Sunil Watagala said today that the walking path at Mabola, Wattala must be reconstructed at Minister John Amaratunga's expense instead of using public funds for the purpose.
He said the Urban Development Authority (UDA) had begun the reconstruction of the walking path and claimed that this was unacceptable because the path was not removed by the UDA.
"The reconstruction of the walking path should be carried out by the minister or others who are responsible for removing it. Rs. 80 million had been used to construct the road by the Government. These are public funds. People shouldn't pay another Rs. 80 million through the UDA so that the miscreants may get away with their wrongdoings," he told journalists outside the Human Rights Commission (HRC).
Mr. Watagala, accompanied by the Evergreen Environmental and Welfare Association members lodged a complaint with the HRC against the minister, the Land Reclamation & Development Corporation Chairman and Wattala Police OIC in connection with the removal of the walking path. (Darshana Sanjeewa)