---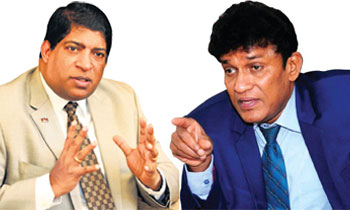 UNP MP Ravi Karunanayake yesterday denied the claims made by Tamil Progressive Alliance (TPA) leader Minister Mano Ganesan that underworld figures had been nominated for the upcoming local government (LG) elections to represent the Colombo North.
Responding to a question raised by a journalist when MP Karunanayake visiting the grave site of slain newspaper editor Lasantha Wickrematunge, on his 9th death anniversary at the Borella Cemetery in Colombo, said, if 'members of underworld' can stay in the government what would be the problem.
"I cordially invite all media personnel to visit Colombo North and to investigate over the claims made by Minister Mano Ganesan. We are walking freely but that minister is walking with special security," he said.
Earlier Minister Mano Ganesan requested President Maithripala Sirisena to provide him with Special Task Force (STF) security with a backup vehicle with five STF personnel to protect him from underworld threats.
Mano Ganesan earlier said in a statement that he faced with serious security threats and sought the intervention of President, Prime Minister Ranil Wickremesinghe and had also written to the IGP in September last year.
"MP Karunanayaka said people cannot do politics like 'Re Daniel Dawal Migel' or by engaging in religious extremism or highlighting racial issues".
"UNP is the only political party which promotes the religious diversity in the country without any discrimination. We always maintain a common policy whether we were in government or in an election period," he said.
"We urge Minister Mano Ganesan to name the underworld figures if we have nominated such people for the LG election.We do politics in clean manner. The people who cannot obtain votes during the election making such claims and it was a habit to make such claims during the election period against UNP," he added.
"We can easily figure out the person who tried to protect the underworld figures even after we named them earlier. The politicians who behave like underworld figures talks more about underworld. Colombo North is free zone for any one and the previous underworld figures were removed by me," MP Karunanayaka said. (Chaturanga Pradeep Samarawickrama and Indika Sri Aravinda)