---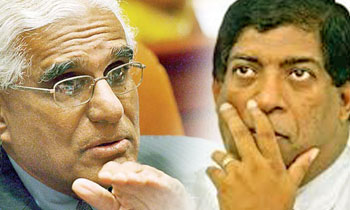 If Central Bank Governor Dr. Indrajit Coomaraswamy has said the economy is clearly in the hospital today, it was in the ICU during the Mahinda Rajapaksa Government and governor Coomaraswamy was an attendant to it, Finance Minister Ravi Karunanayake today said.
Addressing a news conference held at the Ministry, the minister said he believed that Dr. Coomaraswamy hadn't made such a comment but said if he had done so, Dr. Coomaraswamy should understand that he had played the role of a hospital attendant when the economy was in the ICU.
"I'm surprised that the governor has made a comment like that. Maybe the media has misinterpreted or distorted what he said. As the finance minister, it's my responsibility to correct wrong reports," he said.
He said the government's monetary and fiscal policies were clear and the government was making measures to salvage the economy and to bring it to the Out Patients Department (OPD) of the hospital.
Delivering a speech on 'Monetary and Financial Sector Policies for 2017 and Beyond' Dr. Indrajit Coomaraswamy on Tuesday has said Sri Lanka was the only country, other than Afghanistan, in the Asia-Pacific region with an IMF programme and having an IMF programme is the economic equivalent to being in hospital.
"We are not in the ICU but clearly in hospital. The remedial treatment is known and it is encouraging that it has commenced," he said. (Lahiru Pothmulla and Thilanka Kanakarathna)