---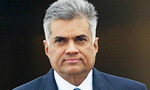 The Governments of the world should engage in partnership with the service organisations to explore greater avenues of cooperation, Prime Minister Ranil Wickremesinghe said in South Korea today.
The Prime Minster was addressing the international Rotary convention in South Korea.
He said that service organisations could also act as an oversight body on the function of the government establishment in their field of expertise.
This he said was already happening in India, where a public trust was overseeing some of the programmes of the Indian University Grants Commission.
"No doubt that this would mean government establishments would need to pull up their socks-leading to greater efficiency and productivity," he said.
"You are able to go to places where governments fear to tread, in a way no one else can emulate. And I think that the governments in the world should begin to take advantage of this by engaging more with Rotary as a partner as well as with other service organizations to explore greater avenues for cooperation" he said.(Yohan Perera)