---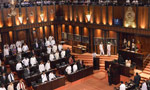 Parliament today passed the Right to Information Bill unanimously with amendments. The Bill was taken up for debate in the House on Wednesday.
Prime Minister Ranil Wickremesinghe opened the debate, and said he attempted to bring it in 2003. However, he said it could not be enacted due to the defeat of his government at the election in 2004.
He said information officers would be appointed to the State institutions to make available information to the general public.
It was debated for two days, and the opposition submitted amendments to be incorporated into the Bill.
President Maitripala Sirisena, in his 100 day programme, has also outlined this for implementation. (Yohan Perera)