---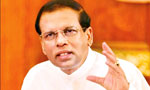 President Maitripala Sirisena is reported to have told the Mahajana Eksath Peramuna (MEP) that he had not got any mandate for constitutional changes that need to be referred to the people for approval through a referendum, it is learnt.
The President met with an MEP delegation to seek views on the constitution making process.
According to MEP sources, the President said he would appear for the unitary character of the Constitution, the foremost place for Buddhism as the majority religion and new electoral reforms.
"The President said he did not get a mandate for constitutional changes warranting a referendum," sources said. (Kelum Bandara)