---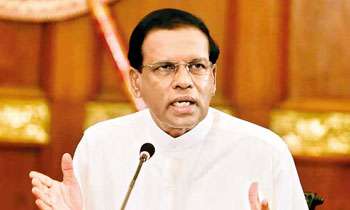 President Maithripala Sirisena today ruled out a snap presidential election despite several parties such as the United National Party (UNP) urging him to so.
He told Daily Mirror that he would not act according to the political agendas of others.
Under the country's Constitution, the President can declare a presidential election at any time after four years if he intended to seek a fresh mandate.
"If there is a snap presidential election, only I have to declare it. I have no intention of doing so. I am not ready to comply with the political agendas of others," the President said.
When asked whether he would contest for a second term at the presidential election scheduled for later next year, he said it was too early to decide on it.
"There is no need to decide on it now. If you look at the past one month, politics has been riddled with happenings on an hourly basis. As media personnel, you all have so many news stories. That is what happened during the past five weeks. Who could say what will happen in a period of one year from now? We cannot say anything now," he said. (Kelum Bandara)
Read the full story on tomorrow's paper