---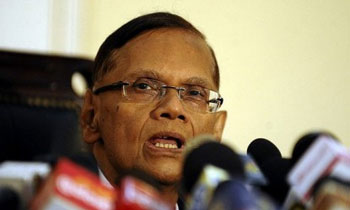 In the wake of President Maithripala Sirisena's statement on the Central Bank bond scam, the joint opposition today said President Sirisena should also be held responsible for the fraud as he was the appointing authority of Arjuna Mahendran as the Central Bank Governor who cleaned out the Treasury.
Addressing a news conference on behalf of the joint opposition, former minister Prof. G.L. Peiris said President Sirisena had only appointed Mr. Mahendran. He also said yesterday's President Sirisena's statement was merely to distance himself from the fraud which had caused a whopping loss of Rs. 11 billion to the state.
"Though President Sirisena vowed to recover money through legal means as Mr. Mahendran being a Singaporean would have spirited away the stolen money. Therefore, it is practically difficult to prosecute him. Even if he is prosecuted, the extradition law has to be applied which is a long and complicated process," he added.
He said the second bond scam had taken place after the Parliament was dissolved and added that it could have been prevented if President Sirisena had not dissolved the Parliament allowing the the Parliamentary Committee on Public Enterprises (COPE) headed by former Minister D.E.W. Gunasekera to proceed with the investigations.
While referring to the statement by President Sirisena that the Bond Commission is of the opinion that similar incidents as revealed in the Commission Report had happened even in 2008, he said it was completely outside the scope of the commission to consider about it and urged the authorities not to distract the attention of the people. (Kalathma Jayawardhane)
Video by Sanjeewa