---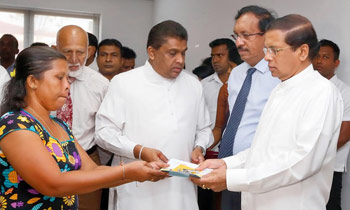 President Maithripala Sirisena today handed over deeds of ownership to 30 families whose houses were destroyed in the Meethotamulla catastrophe.
It was carried out under the first phase of the government's relief programme.
The President's Media Division said the government would provide houses to the other desplaced families as well.
"Rs. 392 million has been allocated for the provision of houses. Apart from the housing units, one family will be given Rs.250,000 to purchase furniture. The government will also arrange to make a payment if the final evaluation of the property damage was more than what has been given," it said.
Prime Minister Ranil Wickremesinghe, Ministers Susil Premajayantha, Anura Priyadarshana Yapa, Patali Champika Ranawaka, Wajira Abeywardane, A.H.M. Fowzie, Deputy Ministers Lasantha Alagiyawanna, Dunesh Gankanda and MP S.M. Marikkar were present at the handing over of the deeds.
Meanwhile, President Sirisena has directed the officials to set up a solid waste management project in the country.
He gave these instructions at a meeting held at the Disaster Management Ministry to review the progress in providing relief measures to those affected. also ordered the Disaster Management Centre (DMC) to provide a payment of Rs.50,000 for three months to the families displaced by the Meethotamulla tragedy.
The President has ordered the monthly payment of Rs.50,000 to each of the families until they are provided with a new house.
Meanwhile, Disaster Management Minister Anura Priyadarshana Yapa said Rs.10,000 would be paid to transport their household goods. (Chaturanga Pradeep)