---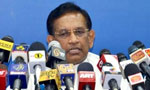 Cabinet Spokesman and Health Minister Rajitha Senaratne revealed today that the Chinese funded 'Port City Project' (PCP) initiated by the Mahinda Rajapaksa government had to be suspended and re-visited under pressure from India.
He told the weekly Cabinet news briefing that a new tripartite contract would be signed shortly with all clauses in the original agreement inimical or unfavourable to Sri Lanka being removed with new conditions included.
"There was opposition to the project from several quarters leading to the UNP vowing to suspend it on assuming office. However, it was the Indian government that forewarned Sri Lanka of the negatives in the event Sri Lanka went ahead. India said once completed, the project will not come under the jurisdiction of Sri Lanka with a big question mark on Sri Lanka's sovereignty," the minister said.
He said India had pointed out that the project management could refuse landing rights to Sri Lanka's aircraft on the properties under its purview and prohibit the use of its air space.
Under the new tripartite agreement to be signed by the China Harbour Engineering Company Ltd (CHEC), a subsidiary of the of the China Communications and Constructions Company Ltd (CCCC), the Megapolis and Western Development Ministry and the Urban Development Authority (UDA) has removed the contentious issues in the original contract.
For instance, according to the agreement signed in September 2014 by the Rajapaksa government, 20 hectares of land was be granted to the CHEC Port City (Pvt) Ltd on a freehold basis and the rest on 99-year lease. The new government has decided that no land will be given on freehold basis but on 99-year lease.
Under the new agreement the above has expanded in favour of the GOSL to include healthcare and hospitals and exhibition and convention centres and the new Colombo International Financial Centre. Also no restrictions will be placed on developing the North and West ports of the Colombo Harbour. In addition, the project company has agreed to set up the CIFC building in the land area reclaimed first including making a new investment in the CIFC building no sooner it is technically feasible to build on reclaimed land and upon mutually acceptable terms being agreed with the GOSL after a feasibility study. (Sandun A Jayasekera)
Video by Janaka