---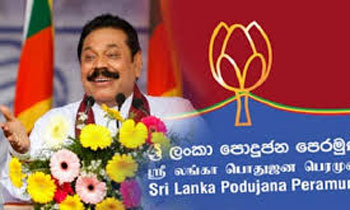 The police have removed the cutouts and posters bearing the image of former president Mahinda Rajapaksa from a Sri Lanka Podujana Peramuna (SLPP) office in Medawachchiya on the basis that it was unlawful to keep such items with the image of someone not belonging to the party.
SLPP Medawachchiya organizer K.H. Nandasena has lodged a complaint to the Elections Commissioner about this incident.
"Police personnel came to the office on Sunday and forcibly took away leaflets with Mr. Rajapaksa's pictures saying it is unlawful to keep them. When we informed the Anuradhapura SP he said the action taken by the Police was correct. They said there was nothing wrong in having the pictures of party leader G.L.Peiris, the electoral organize and the candidate but it was illegal to use the picture of Mr. Rajapaksa who is not a member of the SLPP," Mr. Nandasena said.
He said the Anuradhapura Assistant Commissioner of elections when contacted said no such instructions had been given and asked the police not take such action until instructions were received.
SLPP district leader S.M.Chandrasena said any person can keep pictures of Mr. Rajapaksa who liberated the country from the terrorists and that his pictures could be used for the election if he wished.
Anuradhapura district MP Shehan Semasinghe said the government had got scared of Mr. Rajapaks's pictures. He said Mr. Rajapaksa had informed the Elections Commissioner that he had no objections about his pictures being used by the SLPP for the election campaign. (Dayaratna Embogama)