---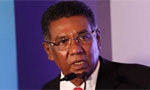 Defence Secretary Karunasena Hettiarachchi yesterday gave a written pledge to pay pensions to disabled soldiers who retire from service prior to completing the 12-year service period similar to the pension paid to soldiers who complete the required service period.
The pensions are to be paid from February, 2017.
The decision was taken after a discussion between Mr. Hettiarachchi and representatives of disabled soldiers held at the Defense Ministry yesterday.
The disabled soldiers who retired after completing 12 years of service and those who retired prior to completing 12 years are entitled to a basic pension and a disabled pension.
The disabled soldiers who retired prior to completing 12 years were denied the pension paid to disabled soldiers who retired voluntarily after completing 12 years. It was only this government which drew attention to this anomaly.
President Maithripala Sirisena who listened to the grievances of the disabled soldiers decided to grant their demand.
Under military law, disabled soldiers are entitled to a pension only after the completion of a service period of12 years.
The decision taken by the President on sympathetic grounds is a bonus to disabled soldiers.
The Presidential Secretariat said though the disabled soldiers never highlighted this grievance during the past eight years, the President had granted this demand by amending the relevant military regulations with the sole objective of giving relief to disabled soldiers.
In addition, President Sirisena has also taken a decision to pay a life long disabled pension to disabled soldiers even after they reach the age of 55. The disabled soldiers were not entitled to this relief until now. (Sandun A Jayasekera)
Video by Chamilka