---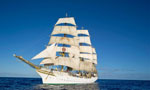 Sørlandet, the oldest of the three Norwegian Tall Ships and the oldest full rigged ship in the world still in operation has arrived in Colombo yesterday, the Royal Norwegian Embassy said.
The ship, nicknamed "The pearl of Norway" was on a two year circumnavigation of the world with seventy high school students from A+ Academy, a boarding school at sea with an exotic itinerary and Advanced Placement curriculum.
The Embassy said that during the stay in Colombo the students would greet Sri Lankan maritime students, and the ship would be part of several events hosted by the Royal Norwegian Embassy.
Sørlandet's visit to Colombo was only one of 44 ports and 22 countries it had visited on its two year circumnavigation. On October 27, it would be welcomed Mahapola Training institute where the Sri Lankan maritime students would get a real life and hands on experience of a true sail ship.
On October 30, the Pearl of Norway would once again sail to its next destination, the Maldives.
It was reported that in 1927 O.A.T. Skjelbred, ship owner built Sørlandet for 25,000 pounds sterling and its maiden voyage was to Oslo in 1927 which was inspected by King Haakon and Crown Prince Olav.
It has also sailed to Chicago to take part in the World Fair in 1933 and during World War II it was used by the German navy and served as a prison ship for deserters. It was recorded as the first Norwegian training ship to cross the Atlantic Ocean.