---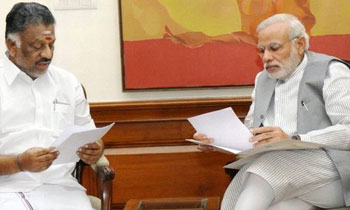 In the wake of the fresh arrest of 10 fishermen from Tamil Nadu by the Sri Lankan Navy in two separate incidents on alleged charge of trespassing into the island nation's waters, Chief Minister O. Panneerselvam on Sunday wrote to Prime Minister Narendra Modi urging him to secure the release of the fishermen and the boats.
Even as he thanked Mr. Modi for recently securing the release of Tamil Nadu fishermen, Mr. Panneerselvam said the Sri Lankan Navy had again resorted to its "harsh and unjust tactic" of apprehending Indian fishermen.
Six fishermen from the Jegathapattinam fishing base of Pudukottai district and four from the Rameswaram fishing base of Ramanathapuram district were arrested by the Sri Lankan Navy in the early hours of January 8.
"The government of Tamil Nadu is extremely concerned about the continuing frequent apprehension and detention of our fishermen," he said, and pointed out that 290 fishermen from Tamil Nadu were taken into custody and 53 boats seized the whole of last year on 39 occasions.(The Hindu)