---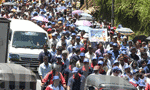 The 'Jana Satana Paada Yathrawa' organised by the joint opposition is currently moving through Kadugannawa, causing severe traffic congestion along the Colombo- Kandy main road.
The march led by former president Mahinda Rajapaksa began around 10.30 am with an estimated 10,000 supporters participating.
Prior to the start of the march at the Getambe Temple, the Peradeniya Police informed those who had gathered to desist from violating the court orders issued yesterday. (Ajith Siriwardana)
Our reporter said the Traffic Police are not taking measures to ease the severe traffic congestion which had occurred as a result of the protest march.