---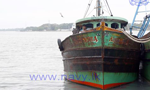 Owners of boats detained by the Sri Lankan Navy on the charge of crossing the International Maritime Boundary Line have appealed to the government to provide interim relief.
Twenty fishermen of Thoothukudi in three country boats were apprehended by the Lankan Navy on March 5. Not only the families of fishermen in detention but also owners of the detained boats were finding it hard to make ends meet, P. Santhiya Pachek, a fisherman-cum-boat-owner, said here on Friday.
As there was no means of income, they were struggling to manage their families.
Hence, he wanted the government to extend assistance to the affected families as there was no alternative means of livelihood. Mr. Pachek said that the boat owners were not able to repay the loans taken from moneylenders for boat construction.
The cost of construction of a country boat ranged from Rs. 18 lakh to Rs.19 lakh, he said.
While relief assistance of Rs.250 a day was provided by the government to the family of every detained fisherman, nobody was worried about owners, he said. Further, political parties also extended assistance to the families of detained fishermen, but not to the owners, who were at the mercy of moneylenders.
Considering the plight of boat owners, interim relief should be provided soon since possibility of release of the detained boats from Sri Lanka seemed remote. (The Hindu)