---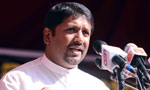 The leader of the opposition has been advised to give prior notice when visiting an army camp in the future, said State Minister of Defence Ruwan Wijewardene.
"The army had advised the leader of the opposition that he should give notice to the army at least a day or two prior to his visiting a camp," Mr. Wijewardene told journalists at the Mahinda Rajapaksa Maha Vidyalaya in Homagama last morning.
He said that the opposition leader had the right to visit any place in the country at any time, but that he should give prior notice if he intends visiting a military camp.
"We don't consider this a major issue as Mr. Sampanthan did not force his way into the camp. He had intervened in an issue faced by the people of Kilinochchi, and neither the police nor the army had done any harm to him. They had only told him to give prior notice before visiting a military camp," he said, explaining what had taken place during a recent incident where Mr. Sampanthan had entered a military camp.
Mr. Wijewardene said nothing would be done to affect the unitary status of the country. "The government will not allow any challenges to the unitary status or sovereignty of the country, but will work out a mechanism of devolving power with the consent of all parties," he said.
"The Northern Provincial Council will have to work together with the central government no matter what decision it takes at any time," he said. (Yohan Perera)
Video by Pradeep Pathirana