---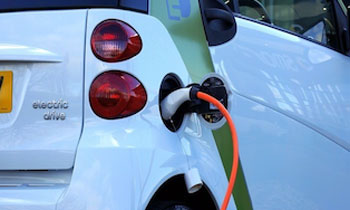 While thanking Finance Minister Mangala Samaraweera for the measures that he taken to improve the electric vehicle usage in Sri Lanka in 2018, the Electric Vehicle Club Sri Lanka (EVCSL) yesterday said that it would not be practical to import electric vehicles with motor capacity ranging from100kw-150kw.
While addressing the media briefing yesterday EVCSL Co-founder and Interim Committee Member Mahisanka Abeywickrama said it was also on a plan of removing all fuel vehicles from 2014, imposing the carbon tax, proposal to install electric vehicle chargers, reduction of taxation for buses and trains.
During the media briefing, he pointed out imposing higher tax percentage for electric vehicles over 100Kw as the first issue to not being it practical.
He also said the taxes of electric vehicles are greater than hybrid vehicles if compared within same class. Therefore, we propose the Government to expand the range defined for middle class vehicles to < 50 to 150 < = none of luxury cars falling in to this category. Luxury and Sport cars like Tesla have motors above 200Kw, he said.
| | | |
| --- | --- | --- |
| Motor / Engine Capacity | Taxes of Electric Vehicles | Taxes of Petrol Hybrid |
| 50kW / 600cc | Rs. 375,000 | Rs. 750,000 |
| 100kW / 1000cc | Rs. 1,250,000 | Rs. 1,250,000 |
| 110kW / 1300cc | Rs. 2,525,000 | Rs. 2,600,000 |
| 130kW / 1300cc | Rs. 3,250,000 | Rs. 2,600,000 |
| 150kW / 1500cc | Rs. 3,750,000 | Rs. 3,750,000 |
"The decision to not to give tax relives for used vehicles, is not practical. Main reason is, brand new vehicles are still not imported directly into the country. Second reason is that the efficiency of the car will remain thought out years when compared with hybrids and petrol cars," Mr. Abeywickrama said.
"When considering the batteries, they are considered as the main component of an electric vehicle. When a new battery is replaced, the old battery could be used for home solar systems for another five years. After that period there is a process of re-exporting and recycling and even batteries of hybrid cars follow the same practice. If used electric batteries are dumped to the environment without proper recycling or disposal process, it causes pollution. There are many steps the government can take to properly collect and re-export the used batteries without restricting the importation of electric vehicles," he said.
Mr. Abeywickrama said even though brand new electric vehicles were not sold in Sri Lanka at this point, it would start during next year. And there was a possibility of their prices escalating. Furthermore, the European countries give special grants and other relief when purchasing an electric vehicle. As a result, their prices decrease drastically and by importing those used vehicles to our country will also benefit from those grants in an indirect way.
Accordingly, the EVCSL proposed that they would appreciate if the government could allow to import electric vehicles which are at least two years older. (Chaturanga Pradeep)