---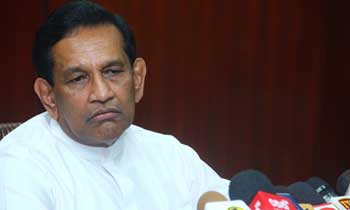 Health Minister Dr. Rajitha Senaratna yesterday said that he was not in the least concerned about the no-confidence motion to be brought against him by the joint opposition as there were no basis to the allegations levelled against him.
Addressing a brief news conference, he said that the JO had brought a no-confidence motion against him for the sake of bringing one and the accusations placed against him in the motion were baseless.
"I'm happy that a group of crooks came up with the idea of a no-confidence motion against me. They think I will resign from my ministerial portfolio before the motion is passed in Parliament. Even if they bring ten such motions against me, I'm confident that they would be defeated with ease because I have not been involved in any fraud. The irony is that those who aspire to sack me are the ones facing corruption charges and have no genuineness," Minister Senaratna said.
He said that the members in JO were at logger-heads with him for revealing their real image in public. "I challenge them to pass this motion with a majority in Parliament," he added. (By Sheain Fernandopulle and pic by Damith Wickramasinghe)
Video by Isuru