---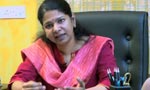 Tamil Nadu's DMK MP Kanimozhi, the daughter of former Tamil Nadu Chief Minister Karunanidhi, on Sunday slammed Tamil Nadu Chief Minister J. Jayalalithaa, saying the latter has no right to talk on the Sri Lankan Tamils issue as she highlights the same just before the elections.
"She is the one who actually was against the entire Sri Lankan problem. In the 2014 general election, she spoke about this (Sri Lankan issue) and after that during her entire tenure she didn't talk about it. There is no honesty and integrity about her stand when it comes on the Sri Lankan issue," Kanimozhi told ANI.
"In fact, the issue of releasing the assassins of Rajiv Gandhi was also brought up just before the elections and after the verdict she has kept quiet," she added.
Accusing the AIADMK supremo of playing games for petty electoral benefits, the DMK leader further said that she raised this issue just two days prior to the Election Commission's notification for the assembly polls.
Earlier on Saturday, Jayalalithaa asserted that her party would take "continuous steps" to attain a separate homeland for Tamils in Sri Lanka and demand the Centre to grant dual citizenship for refugees from the island nation living in the state.
Addressing an election rally in Tiruchirappalli, the AIADMK chief said she has been continuously demanding an independent, international probe over war crimes and alleged genocide against the Tamils in Sri Lanka.
She alleged that both DMK and Congress were responsible for the destruction of Sri Lankan Tamils. (ANI)