---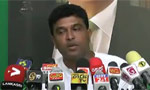 A wrong assessment by the Auditor General's Department had led to the notion that a fraudulent deal had taken place when purchasing coal for the Lakwijaya power station, a government MP said today
UNP Kurunegala District MP Nalin Bandara Jayamaha told a media briefing that a metric ton of coal had been purchased at US $ 51 and not $58 as stated by the auditor general. Accordingly he said the government had not lost Rs 1.8 billion as claimed by the Auditor General's report.
"The method which the auditor general's department had used to compute the total cost of purchase had led to this confusion," the MP said. He said $ 58 is an index price and not the awarding price. "Index price changes according to the global prices and therefore in this instance the awarding price had been reduced to $ 51 as per the flotation of global price at the time of the tender was submitted," he said.
The MP said he and several members of Parliament had requested Prime Minister Ranil Wickrmesinghe to appoint a committee to look into the coal power purchase deal and how the auditor general's department came to a conclusion that there had been a fraud.
Mr Jayamaha who commented on the judgment delivered by the Supreme Court said it had stated ' the respondent may terminate the contract rather than saying 'the respondent shall' terminate it. " The Courts has not ordered the termination of the purchase contract," he said.
Mr Jayamaha said the real fraudulent act had been awarding the purchase tender to one company Nebel ever since the Lakwijeya Power plant began operation despite its disqualification for not revealing its local agent. "The local agent is a prominent member of the former government," the MP alleged. (Yohan Perera)
Video by Buddhi