---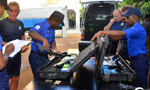 Having taken over the Onboard Security Team Operations (OBST) from Avant Garde Maritime Services, the Navy said today said that it had earned an income of Rs. 2.33 billion since November 13 last year.
Navy Spokesman Akram Alavi said the Navy had carried out a total of 6,150 shipments to the Galle harbour and 496 shipments to the Colombo harbour, with an average of approximately 554 shipments month.
The earnings generated through OBST operations are directly deposited in the Consolidated Fund of the Sri Lanka Government.
With the annulment of the previous agreement, Sri Lanka Navy was entrusted the task of providing security to merchant vessels and supplying services to Security Firms involved in providing onboard security for merchant ships.
The Government in early November decided to handover the operations of the controversial AGMSL to the Navy.(Darshana Sanjeewa)