---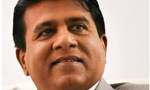 A majority of the Human Rights groups and NGOs in the country were only protecting the rights of suspects and criminals, instead of looking into the grievances of victims or witnesses, Justice Minister Wijeyadasa Rajapakshe said today.
Addressing the inauguration ceremony of Victims of Crime and Witnesses Assistance and Protection Division of the Police, the Minister said there was no single NGO or civil organization in the country to look in to the grievances of victims or witness.
"That is a sad part. Everybody is concerned about the suspects and prisoners. That is good. But at the same time they should also think about what would happen if the rights of victims and witnesses are not protected," he said.
Rajapakshe said that sometimes the victims take law into their hands because they had no confidence in the judicial system.
"There will be anarchy, if the victims and witnesses were neglected. It has happened in this country before," he said.
The Justice Minister added that the Crime and Witnesses Assistance and Protection Law was a historical one because there were more than thousands of laws to deal with criminals and their offences, but there was not a single law to safeguard the rights and interests of victims and witnesses. (Darshana Sanjeewa)
Video by Dhanushka