---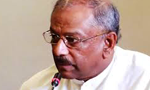 Joint opposition Leader MP Dinesh Gunawardena today said, the move to implement the increased Value-Added Tax (VAT) from May 2 was illegal since Parliament was yet to ratify the increment.
Prime Minister Ranil Wickremesinghe in Parliament in March said the government would increase the VAT to 15 percent. The government first announced the increment would be imposed from April 1 but postponed it to May 2.
"The Budget for this year was amended frequently and then the Prime Minister presented an interim budget with proposed tax increments. However, still, no documents were tabled in Parliament to seek its approval to impose the increased tax, despite the government's assurance to do so," MP Dinesh Gunawardena said.
He said since the tax proposals were not taken up for discussion and debate in Parliament, the entity which is responsible for taking fiscal decisions of the country, all tax increments would be illegal.
"Implementation of such taxes is a violation of the Constitution," he said. (Lahiru Pothmulla)
Video by Janaka