---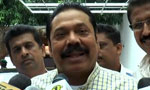 The initial steps of the Moragahakanda-Kaluganga project was started under the Mahinda Chinthanaya and it was under one of our main programmes, former president Mahinda Rajapaksa said today.
"The project had already been initiated and the relevant funds from China had also been granted for the construction. This government had nothing to do with the initiation of the project. Those are all our measures," he said.
However, we are looking forward to have any hospitality offered by the government on our way for the protest march to Colombo, he said.
Most of the grounds in Colombo area had been already booked and blocked by government officials to prevent the final gathering of the organised Joint Opposition 'Paada Yathra' protest march.
While answering a question raised by a journalist, the former president said that they could not find an exact location for the final meeting.
"If we cannot get a ground for our final meeting, we will gather people to the Galle Face Green to provide more room for them," he said.
Mr. Rajapaksa assured that the 'Paada Yathra' protest would begins on the 28th (Thursday) from Kandy. (Chaturanga Pradeep and Indika Sri Aravinda)
Video by Indika Sri Aravinda