---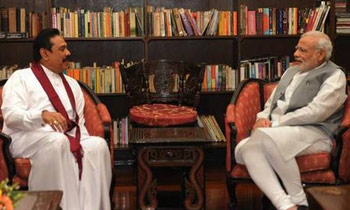 Indian Prime Minister Narendra Modi met former president Mahinda Rajapaksa in Colombo in an apparently unscheduled late night meeting, The Hindu said today.
Indian High Commisioner to Sri Lanka Taranjit Singh Sandhu has told that the meeting was held at Mr. Rajapaksa's request.
The meeting comes ten days after MP Wimal Weerawansa called for a black flag protest around Mr. Modi's visit.
Mr. Rajapaksa has earlier blamed India for his defeat in the January 2015 presidential polls, but in a recent media interview said that he admired Mr. Modi, the article said.
Former defence secretary Gotabaya Rajapaksa and former minister G.L. Peiris had also taken part in the meeting held with the Indian Premier, informed sources told Daily Mirror.