---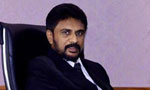 The government has decided to remove Nimal Bopage from the post of Secretary of the Ministry of Parliamentary reforms and Mass media.
This decision had been arrived at after considering the impact of a statement made by the secretary on the media policy of the government of good governance, and acting in contravention of the efforts of President Maithripala Sirisena and Prime Minister Ranil Wickremesinghe to establish an independent media environment by issuing such statements.
The statement under the title " Uthum vu Madhya Nidahasa, Awabhavitha Nokaramu" issued by Mr. Bopage drew much attention of the government, prompting the Premier to summon Bopage and severely reprimand him.
Bopage soon after assuming duties had issued this controversial statement which had belittled the Yahapalana government and the senior Cabinet Ministers had expressed their serious concern, and the decision to remove him from the post had been taken thereafter.
The directive removing the secretary is expected to be forwarded to President Maithripala Sirisena within the next few days. (Anjula Maheeka Weerarathne)