---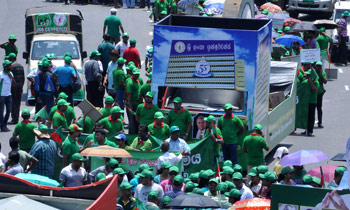 The May Day rallies organized by the four main political parties began a short while ago in Colombo and Kandy.
The Sri Lanka Freedom Party (SLFP) is being held in Gatambe, Kandy while the United National Party (UNP) holds its rally at Campbell Park in Borella with the joint opposition holding its rally at the Galle Face Green.
The Janatha Vimukthi Peramuna (JVP) is holding its rally at the BRC Grounds in Colombo at 4.00 p.m.